Adib Razavi
Director of Operations
Adib is the Director of Operations at Toronto Athletic Camps (TAC). His passion for sports is rooted in his own experience as a developing junior player. He comes with an extensive athletic background as a former student-athlete and as a supervisor of internal and external affairs within intercollegiate athletics for soccer and tennis. He has been a member of the varsity team at York University, earning him the Ontario University Athletics championships with the York Lions in 2011. In addition to his high quality work with various teams, Adib manages a terrific sports program and is excited to apply his knowledge to TAC Sports programs and community-based organizations. He takes pride in working at TAC Sports and in his ability to provide youth with high-quality sports and education programs. Adib is fluent in English and Farsi.
Alexander Arthur
Director of Programming
Alexander's passion has always been sports, health and physical activity. Alexander graduated from York University with a B.A in Kinesiology and Sports Psychology. His life mission is his commitment to develop children and athletes into confident players and leaders. He takes pleasure in designing the best possible programs and systems for TAC Sports. Alexander is a NCCP certified coach, teaching soccer and tennis for over 10 years. He continues to play high-level soccer all around Ontario and has been organizing soccer teams and leagues for over 6 years. Alexander is fluent in English and Italian, and is adept in both Spanish and French.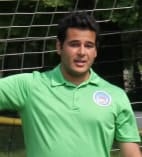 Arta Mohasses
Director of Athletics
Arta has always carried a deep-rooted passion for soccer. From a young age he set out to make soccer an integral part of his life. As the Director of Athletics for TAC Sports, Arta strives to maintain the highest quality programming for the athletes as well as developing novel approaches to coaching. He has been coaching for 8 years and his desire for perfection and excellence is ever-present. While graduating from York's Kinesiology and Health Science program with a specialized honors B.Sc degree, he also received his certification by the NCCP for soccer coaching at every level. He is currently working on his M.Sc degree in Kinesiology and Health Science and is actively looking to apply his education to his everyday work. Arta is fluent in English and Farsi.
Matthew Bagazzoli
Coordinator of Sports Education
Sports is Matthew Bagazzoli number 1 passion. He played as a soccer goalkeeper at competitive levels for teams across the GTA since he was 11 years old. In addition, he volunteered as an assistant coach/trainer for competitive youth teams such as West Toronto, Weston Wolves and Toronto Eagles.
Matthew has an immense understanding of the psychology of soccer through his studies in all areas of the game.